How do I get a compact or multistate nursing license? What is a multistate nursing license? What license do I need to travel nurse? These are all questions that new travel nurses ask themselves. Travel nursing is a rewarding and exciting career! Don't let the confusion of travel nurse licensing stop you from taking the leap! Agencies have knowledgeable credentials and licensing specialists on staff to guide you through the licensing process. Below we have a comprehensive guide on travel nurse licensing.
How to Get A Compact Nursing License?
First things first, after a nursing graduate passes the NCLEX the next step is getting a state license! After a nurse has worked in their state for at least one year they can become a travel nurse and start applying for travel nurse agencies. Keep in mind if your state is part of the NLC, it is best to get a compact license right away over a single-state nursing license. Below is a list of states with links to their state licensing requirements.
What Kind of Nursing License Does a Travel Nurse Need?
You have some options when it comes to travel nursing in a state that isn't your home state. Many factors play into which road you will go down like the Nursing Licensure Compact program, specific state, and urgency of need. Don't let this overwhelm you. When you are on staff with an agency, like PRN Healthcare, they will help you through the process. A rule of thumb is to apply for a license right away if you think you will want to travel outside of your resident state. The turnaround times to receive a license can take a few months. Normally you will get one of the three licenses below:
eNLC License (also known as a compact license)
Temporary License (when waiting for a permanent license)
State-Specific License (For nurses who reside in non-compact states or to work in a state that is not in the NLC)
Keep in mind if you were already licensed with a compact multi-state nursing license after you passed the NCLEX, you are in the clear if you want to travel within the 39 states listed below. Just make sure your license is active and has not expired.
What is A Compact Nursing License (eNLC)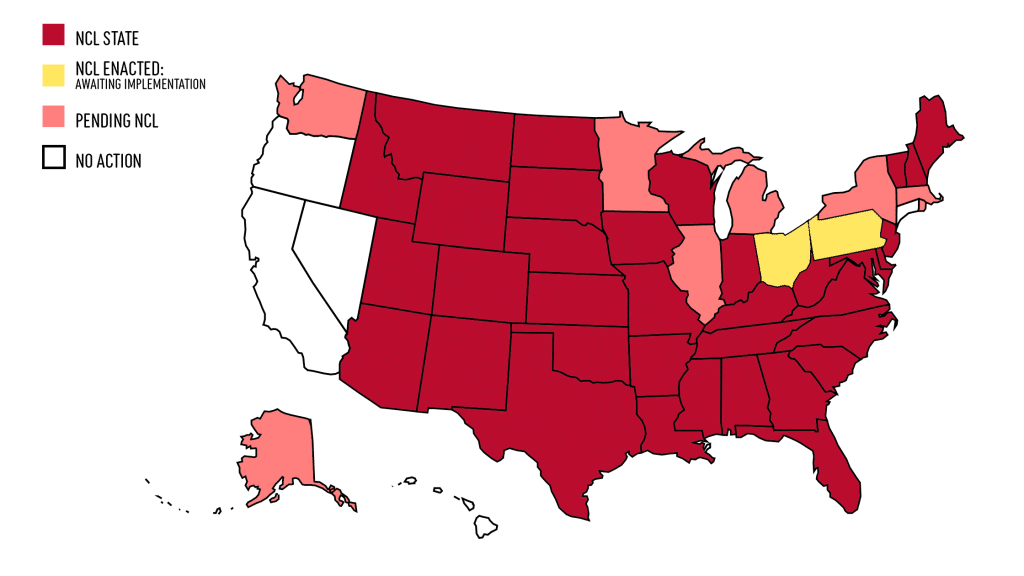 The easiest way to travel nurse is to obtain a compact license. The National Council State Board of Nursing developed the Nursing Licensure Compact program (NLC). This program allows nurses who currently have one state license to work in other states in the NLC without having to apply for other state licenses. Currently, 39 out of 50 states participate in this program. two states, Pennsylvania and Ohio, are enacted but are pending implementation. For you to be eligible for a compact nursing license you must live in one of the 39 states. Not sure where you reside? Think about the state you file taxes, vote, and have a driver's license in.
How to Get a Multistate Nursing License?
There are four answers to the question "how to get a compact nursing license".
License by Exam
License Renewal
Convert Single State License to Multi-State
License for Graduates From A Foreign Nursing Program
The most popular is by exam and converting from a single state to a multi-state. We'll go into detail as to what each of these means so you can figure out which best makes sense for you. Keep in mind, as stated above, you can only receive a compact license if you reside in one of the 39 NLC states.
Multistate Nursing License By Exam
Many people wonder how to get a multistate nursing license, the easiest way is by exam! If you live in a state that is already part of the Nursing License Compact you can apply for a multi-state license right off the bat. Even if you are just planning to travel nurse within your state, this still leaves the door open for great opportunities later down the road. Some local travel nurses will travel to a neighboring state when the rate is right. You want to have options!
Single-State Nursing License to Multi-State License
Some nurses received their nursing license before their state was in the NLC. If this is the case, they may have to re-apply to convert their single-state license to a multi-state. For example, if you got your resident nursing license in Florida, Georgia, Oklahoma, West Virginia, or Wyoming before they joined the NLC in 2019 then you should complete the Board of Nursing application for a multi-state license.
You can also update your license on the Board of Nursing website when you move residencies from one compact state to another compact nursing state. If you are moving from a compact state to a non-compact state, you may be issued a temporary single-state license in your new state of residency. Check out this fact sheet for more information on changing licensure when moving.
What is a Temporary Nursing License?
A temporary nursing license is a temporary state license that allows a nurse to practice while awaiting a permanent license. This licensure can take a few months to receive once requested. The license is valid for 30 days to six months depending on the state.
What is a Single-State Nursing License?
A single state nursing license is a great way for nurses who do not live in a compact state to still practice within the NLC states. You can apply for a nursing license in any of these states by endorsement. This essentially will give you a single-state license for the compact state you applied for. This is only valid for one state. A travel nurse can have as many single state licenses as they want. Although this can get pricey with registration fees, see if your agency will reimburse you for this. To obtain a single-state nursing license you must apply through the state's Board of Nursing. Every state has different requirements.
---
You have multiple roads to take to start travel nursing. You can get a multistate nursing license, a single-state license, or a temporary license to start travel nursing. Travel nurse licensure can feel overwhelming, be sure to talk to your credentialing team at your agency. Have more questions? We would be happy to chat with you!
---
Also read our other articles about travel nursing!
Travel Nurse Salary
Tips for Finding Travel Nurse Housing
How To Become A Travel Nurse
How to Have a Winning Travel Nurse Resumé
Local Travel Nursing
Understanding Travel Nurse Taxes
Travel Nurse Apps
Top Travel Nurse Podcasts
Types of Travel Nurses
Health Insurance For Travel Nurses