As a new traveler or experienced travel nurse, accepting a new 13-week contract is an exciting new adventure! A big piece of the travel nursing puzzle is finding short-term travel nurse housing for contracts. Before you get out your packing list, you have to choose your new home away from home! Some travelers opt to drive from contract to contract in their RV. Others love the allure of staying in a fully furnished Airbnb or hotel. Whatever your preference is, we are here to offer you some insider tips on locking in the best short-term travel nurse housing options!
Types of Travel Nurse Housing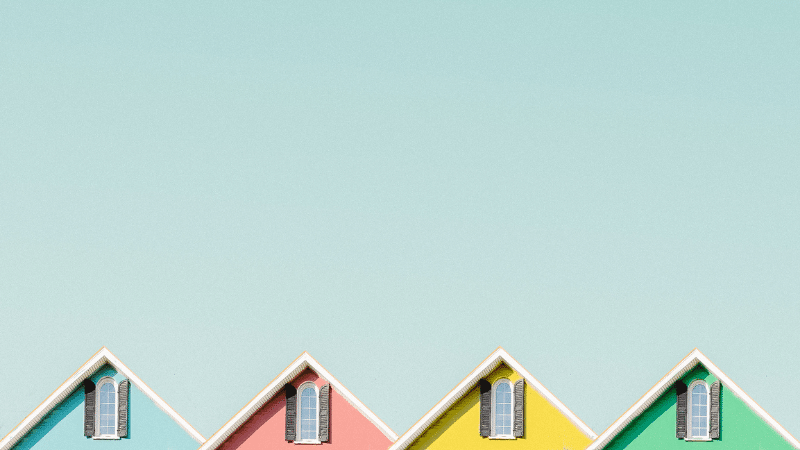 Short-Term Housing is something new travelers find daunting. When in reality, finding short-term housing is a lot more manageable than expected! Many staffing agencies have a housing coordinator on staff which makes finding housing for 13-week contracts effortless. These housing coordinators have great recommendations wherever you decide to travel next. Make sure to disclose exactly what you are looking for in housing so your housing coordinator can make the perfect match! Below are some of the most popular travel nurse housing options.
Rent a Vacation Rental
Rent from a Private Owner
Stay with Friends and Family
Park Your RV
The awesome part of these travel nurse housing options? Many of them are fully furnished and have great amenities! Be sure to document what is included so you don't over pack or under pack for your trip.
Rent a Vacation Rental
If a nurse is looking for a home away from home, this is a great option. You can rent a fully furnished studio, apartment, condo, or house. This is one of the most popular options for travel nurses; it can also be the most spendy depending on where you decide to stay. Remember travel stipends go towards housing, so you have to determine how much of it you want to spend on rent. Apps make the browsing process so much easier. Check out the apps below to start looking for your next vacation rental.
The great thing about Vrbo and Airbnb is all the rentals are certified. Furnished Finder is a travel nurse housing-specific app and website geared towards travel nurses and their needs!
Pro Tip: Look for vacation rentals that lower the price when you stay for multiple weeks in a row!
Rent From a Private Owner
Similar to vacation rentals, you can rent studios, apartments, condos, and houses from private owners on the same Airbnb and Vrbo apps. You can sometimes find cheaper options if you are open to sharing space. Some private owners open up their basements or guesthouses to visitors. HomeStay.com is a great resource to use if you are open to home sharing. You can also pursue Craigslist for posts from landlords or individuals subletting their apartments.
Stay at an Extended Stay Hotel
Extended stays at hotels are a great cost-effective option! These are sometimes referred to as aparthotel. Why? because, if you married apartment living with a hotel stay you get the extended-stay experience. Extended stays have everything you need for a short-term stay with great amenities like in-suite laundry and a full kitchen. Some extended stays are even dog friendly! Be sure to read the reviews and talk with your housing coordinator before making a decision!
Stay With Friends or Family
The joy with travel nursing is you can go anywhere in the country to work. Some travelers opt to stay with friends and family when they travel. This is a great option for saving money! It also guarantees you have a built-in tour guide of the new city you are in. One of the challenging parts of travel nursing can be getting lonely and finding friends. Staying with loved ones is like a safety net and is a great option when you are starting out as a travel nurse!
Park Your RV
There are a handful of s'more loving travel nurses who cruise the nation in their RVs! Parking at a campground or RV park is a great option for adventurous folks who say, "home is where you park it". Make sure to look for sites that have full hook-ups with sewage, electricity, water, and Wi-Fi! Here are more tips on full-time RVing as a travel nurse!
Don't own a van or RV, but are interested in trying it? At some campgrounds, you can rent fully furnished RVs and they will set them up at a site for you. You can also rent a van or RV on sites like Outdoorsy.
7 Best Websites to Find Travel Nurse Housing Options
If you are the type of person who wants to take control of your travel nurse housing, these websites are a great place to start researching where to stay.
Airbnb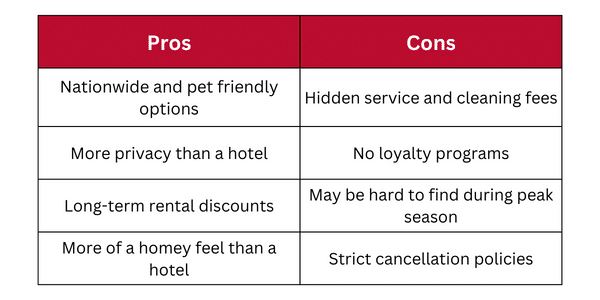 Airbnb is a popular vacation rental company, we are sure you have heard of it! They have thousands of furnished housing options to choose from all across the country. Airbnb is great for longer stays like travel contracts because oftentimes they are cheaper than hotels with more amenities and space. For longer stays, hosts will often give a discounted rate. According to Nerd Wallet, on average, the nightly rate for a seven-night Airbnb stay turns out to be 32% cheaper than the nightly rate for a one-night stay. The options are endless with Airbnb! You can stay in an A-frame cabin, a condo right downtown, a spacious home, or a cozy apartment. Some listings are even pet-friendly for your furry companion.
Vrbo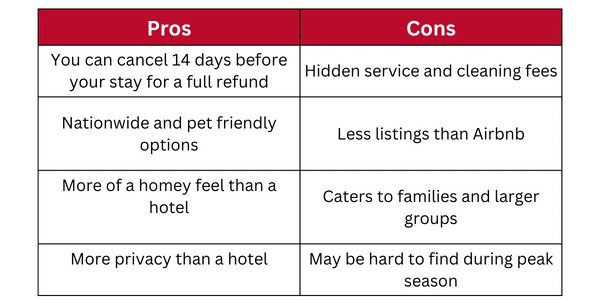 Vrbo is like the sister to Airbnb. The great thing about these apps are you can read reviews from past people who have stayed with them. This can give you great insight into the cleanliness, neighborhood, and overall experience! They are very similar when it comes to functionality and price. With over 2 million vacation rentals nationwide, Vrbo has some great short-term rental options for travel nurses who are looking for more than just a hotel room. You can filter down to furnished rentals that are pet-friendly, have swimming pools, are on the beach, and much more. Are you an avid Pinterest pinner? Spend some time creating a trip board where you can browse and save future vacation rentals based on location.
ShortTermHousing.com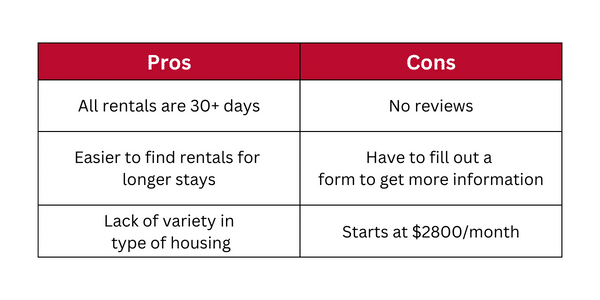 Short Term Housing was created specifically for travel nurses. All rentals come furnished with full utilities, (electric, Wi-Fi, television). Their properties are in favorable locations close to medical facilities and in safe and quiet areas. This makes for the perfect location to recuperate after a long shift and you won't have to worry about long commutes. Short Term Housing offers well-vetted quality rentals for sensible prices. This is a great option to look into while travel nursing.
Extended Stay America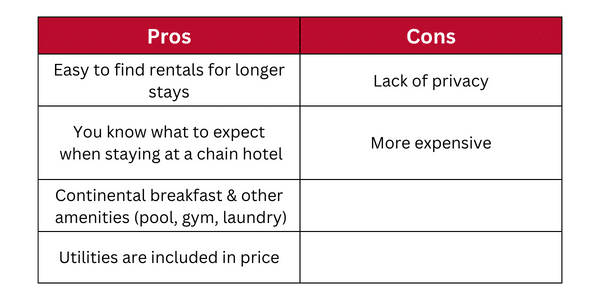 With more than 760+ locations nationwide and a variety of hotels, staying with Extended Stay America is a great option while traveling for a travel contract. Staying here will give you a hotel feel but with accommodating suites, free wifi, on-site guest laundry, and fully equipped kitchens. The best part? Continental breakfast! Most Extended Stays also have a pool, hot tub, and gym for guest use.
Furnished Finder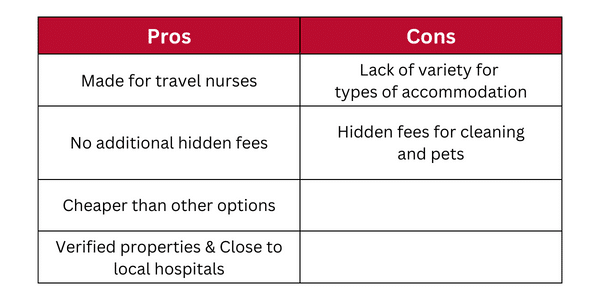 Furnished Finder is used by over 100,000 traveling nurses! The website boasts over 150,000 affordable furnished short-term rentals. You can search their map by location, date of stay, and price to find a curated list of rentals that fits your needs. You can book hotel rooms, apartments, condos, and homes without additional fees like you might see booking through a third-party site.
HomeStay.com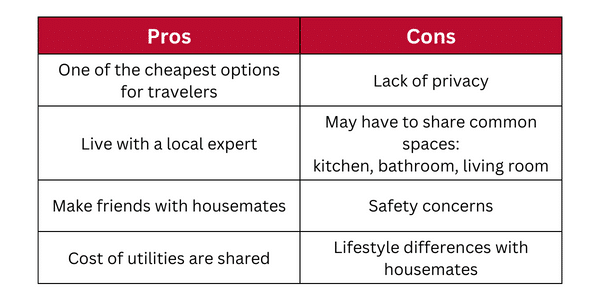 Home Stay is a unique service that pairs travelers with host families. This is the ultimate opportunity to live with local experts. You share a home with families who are willing to welcome you with open arms. This could mean you rent a room or a level of the family's home. The best part is Home Stay is easy on the wallet and you get a built in friend to spend time with if you choose to do so.
Apartments.com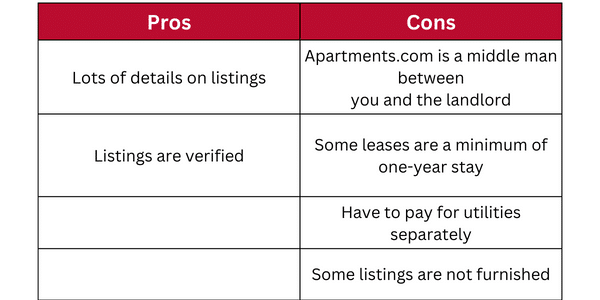 Apartments.com is a great resource with over 1 million listings for short-term rentals for apartments, condos, townhomes, and houses! Whatever kind of stay you are looking for, they have it. This includes pet-friendly options. You can browse listings, submit an application, and sign a lease from anywhere in the world thanks to their mobile-friendly app.
Tips to Find The Best Travel Nurse Housing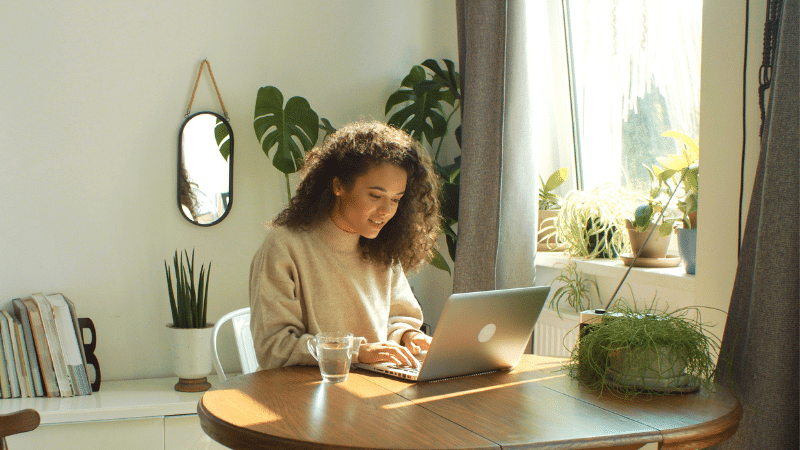 There are so many great housing options when travel nursing! Locking in your travel nurse housing for the next 13-weeks can be both exciting and nerve-wracking. You could find yourself in a sky-high studio apartment in the middle of the city or in a cottage out in the country, whatever your speed there are some steps you'll want to take to ensure the best experience!
Get Social
You aren't in this alone! There are tons of great travel nursing social groups to join on Facebook. Once in these groups, see what others are talking about and ask questions of your own. The groups are made up of a combination of new travelers and veteran travelers. These groups are a great source of support. See what other nurses are doing for their housing and what they recommend. Who knows, you might even meet someone who is going to be in the same city as you!
Have Realistic Expectations With Travel Nurse Housing
As cool as living in a tree house for the next 13-weeks would be, or in a fancy condo in the middle of the city, be realistic with yourself. For three or four days out of the week your home away from home will only be used for sleeping before returning to your next shift. To save some of your tax-free stipend, cut costs for luxury where necessary. On the other side of the coin, it's true you pay for what you get. So don't skimp too much on necessities you need to be happy, like a full kitchen or in-suite laundry! Once you have a true idea of your needs and wants, be sure to let your Housing Coordinator know.
It Doesn't Hurt to Ask
If you see a listing that is out of your price range but you adore, don't be afraid to ask the house owner if they can lower the price since you will be staying for over three months. Some landlords and house owners are thrilled to accommodate one traveler instead of having multiple people come and go through their doors. The same goes if the website says the property is unavailable for your chosen dates, always call to ask. Cancellations happen all the time. Even if they are fully booked, they often give great recommendations for other local accommodations. Moral of the story? Always ask for what you want.
Things to Discuss With Your Housing Coordinator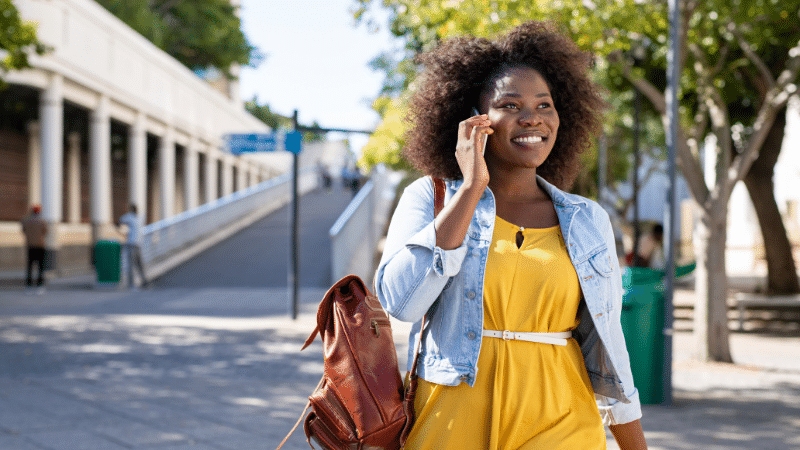 Your Housing Coordinator will act as your housing matchmaker. Make sure you cover all your bases when discussing short-term travel nurse housing options. Here are a list of questions you should be answering and discussing before choosing your next home away from home.
Do you prefer to live in the middle of the action or on the outskirts?
Would you like to live alone? Do you want roommates?
How far would you commute for work?
What are your non-negotiables when it comes to travel nurse housing?
Do you like to cook for yourself and meal prep or do you prefer to order to-go meals?
Will you be bringing any pets on the assignment with you?
These are all topics of conversation you should be chatting about with your Housing Coordinator.
---
Finding short-term and fully furnished travel nurse housing is an enjoyable experience when approached with the right tools in your toolbox. Firstly, you'll want to form a great working relationship with your agency's Housing Coordinator. Secondly, you'll want to establish realistic expectations of what you are looking for in your price range. Lastly, get looking for your new 13-week home, or leave it up to your Housing Coordinator! Now you can focus on the exciting things like packing for your adventure and researching the things you want to do in your new location!
---
Also read our other articles about travel nursing!
Travel Nurse Salary
How To Become A Travel Nurse
Travel Nurse Licensing
Travel Nurse Resumé
Local Travel Nursing
Travel Nurse Taxes
Travel Nurse Apps
Travel Nurse Podcasts
Types of Travel Nurses
Health Insurance For Travel Nurses