Top 5 States for Travel Nurses in the Fall
Travel nursing jobs offer many benefits, one of the them being the opportunity to travel around and see the country. There's no better time to check out some of the best travel nursing locations than in the fall. Autumn is a great time to see the leaves changing colors and attend fall festivals. If you're looking for your next contract, here is a list of the the top Top 5 states for travel nurses in the fall.
Maine
Calling all travel nurses who love fall foliage and colors should check out our Maine travel contracts!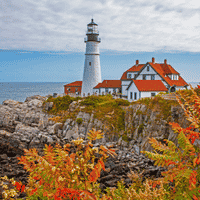 When many people think of Maine they think of lighthouses and lobsters, but that's not all it has to offer. Maine is known for its gorgeous fall foliage. Many visitors who come to Maine love to spend their time in the outdoors at Acadia National Park, also known as the Crown Jewel of The Atlantic Coast. Hiking the more than 150 miles of trails here guarantee you will see spectacular views of the autumn scenery. The peak time to visit to witness the leaves changing are the first few weeks of October.
If you're in more of the sit back mood, but still want to enjoy the beautiful fall colors then you should book a ticket with the fall foliage train tour. The Belfast and Moosehead Lake Railroad offers a variety of different fall foliage train tours for all ages to enjoy, such as traveling on the Pumpkin Express to go to a pumpkin patch for picking.
Another great attraction to check out in Maine is there annual Damariscotta Pumpkinfest and Regatta (October 8th-11th). This is one of Maine's greatest fall festivals that has any and everything to do with pumpkins. The festival features such events like a giant pumpkin contest, pumpkin parade, pumpkin drop, great pumpkin boat regatta finale, and much more.
Massachusetts
Now switching gears to travel nurses who are big fans of Halloween! Consider visiting Massachusetts on contract!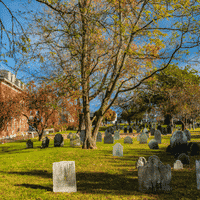 Massachusetts makes the list of top 5 states for travel nurses in the fall because of the spooky vibes! If you're looking for more of a spooky location to travel nurse, then you've come to the right place. Salem, Massachusetts is home to the famous Salem Witch Trials and is filled with tons of great history. There are many tours to check out in Salem including the 2-Hour Salem History Walking Tour. This is one of the best Salem day tours in the area and is lead by a local guide. The Tour takes you to all the iconic sites in Salem, including landmarks in the Salem Witch Trials Memorial. Other stops on the tour include the Burying Point, the Mclntire Historic District, Hamilton Hall, and the Pickering House. Visitors also have the option to spend time touring the Salem Witch House afterwards if you want the full experience.
Also, throughout the entire month of October Salem is hosting their annual Haunted Happenings festival. This festival includes Halloween fun for everyone. Some events at the festival includes haunted parades, street Fairs, family fun nights, and costume balls. Additionally, the Haunted Happenings has ghost tours, haunted houses, live music, theater shows, and much more! If you are looking for a Spooktacular time, Massachusetts is the state for you!
New York
Nurses who are looking for classic fall activities in a much larger city should travel nurse in New York!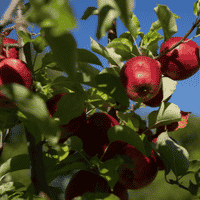 As most people know, New York is called the Big Apple. It also features one of the most popular apple picking orchards in the country, Fishkill Farms. At Fishkill Farms they have a variety of different types of apples, and the apples are available to pick yourself. The farm also has a weekly fall harvest festival that includes apple picking, wagon rides, cider donuts, and live music.
New York is another place where you can observe the beautiful fall foliage by walking around some of their favorite parks. The best parks to check out in New York City are Central Park or The High Line. At these parks you can walk around and observe the beautiful fall trees changing colors. Also, New York is famous for hosting a variety of Fall festivities. One popular event is The Great Jack O'Lantern Blaze, which is a fan- favorite with many New Yorkers. At this event, there is a display of more than 7,000 illuminated Jack O' Lanterns that are all designed and hand-carved by local artists. Another event New York is known for hosting is their annual Macy's Thanksgiving Day Parade. This parade takes place on Thanksgiving Day and features many different balloons, floats, and fun!
Colorado
Are you a beer fan? If so, come enjoy Oktoberfest and fun activities in Colorado on your next travel nurse contract!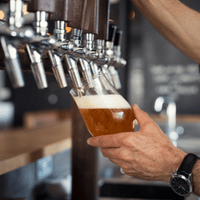 A popular attraction in Colorado is their annual Oktoberfest. This event typically takes place at the end of August until the end of October. Oktoberfest happens all throughout the state of Colorado in such places like Breckenridge, Vail, Steamboat Springs, Denver, and more. The largest Oktoberfest takes place in Breckenridge and features two dozen food vendors, dancers, costumes, polka music, and Paulaner Bier. A few activities that take place include a 5k, keg tapping ceremony, and lots of games for the kids.
Also, many people think of Colorado as a winter sports destination and for the snowy mountains. Let me tell you, Colorado has so much more to offer in the other seasons, especially during the fall. The city of Aspen is famous for their ski resorts, but still allows you to see the fall trees change colors. Also, the normal spots where tourists would typically go hike or ski is a great place to go see more of the autumn scenery. Take the ski lifts or hike and enjoy Colorado's taste of fall.
North Carolina
If you're looking for another beautiful place to see fall foliage then you should travel nurse in North Carolina!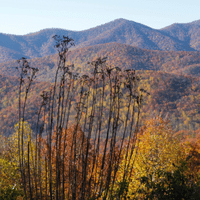 The Fall season in North Carolina is the busiest time of the year and makes NC one of the top 5 States for travel nurses in the Fall. If you are wanting to see some of North Carolina's fall colors then you should go take a trip to the mountains. North Carolina's mountains are a must see experience. A few other spots that offer great views are Crowder's Mountain, Pilot Mountain, and the Hanging Rock.
A fun area to check out in North Carolina is the Outer Banks. In the Fall you can walk around the Outer Banks downtown area, spend time on the beach, and see lighthouses. If you're looking for a unique event then you should take a trip to Statesville, North Carolina for their annual Carolina BalloonFest. This huge event is filled with colorful vibrant hot air balloons in the sky. The festival also includes hot air balloon contest and tether rides, photo opportunities, live music, kids zones, and more fun! For people who like more spooky attractions, check out the Scarowinds. This amusement park is turned into a haunted destination with that is filled with scary decorations, live music, and plenty of screams and fear to go around.
---
As you can see there are many great places to travel nurse in the fall, depending on what your interests are! These top 5 states for travel nurses in the fall have something unique to offer everyone when it comes to scenery, attending fall festivals, spooky events, and more.
What are you waiting for! Don't wait for the next contract to fall your way. Now is the time to go visit PRN Healthcare to find the next place to travel nurse this fall!