Travel Nursing: How Does It Work?
Travel nursing is an exhilarating career path. Imagine being able to choose anywhere in the country to work for 13 weeks at a time. Amazing, right?! As you can imagine, being a travel nurse feels like an extended vacation. Explore new cities, cultures, and build one heck of a resume. This blog will walk you through how travel nursing works, along with all the ins and outs!
This article contains:
Pros and Cons of Travel Nursing
What is Travel Nursing?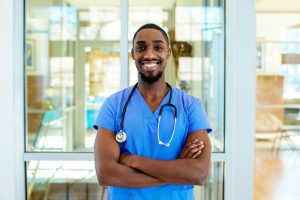 Travel nurses fill openings at facilities and hospitals. Most of these contract positions are 13 weeks long but can extend based on need. Facilities and hospitals have vacancies for a variety of reasons. Vacancies occur because of unqualified applicants, maternity leaves, and/or census changes.
According to the U.S. Bureau of Labor Statistics, job openings will grow 12% from 2018 to 2028. Hospitals are always looking for great nurses. This makes your decision on becoming a travel nurse that much easier!
How Does Travel Nursing Work?
Healthcare staffing agencies are here to help travel nurses lock in their contacts. Travel nurses apply through the staffing agency to get things moving. In essence, you are working and getting paid through the agency representing you.
To get started your recruiter will have a phone conversation with you. You'll discuss your resume, salary expectations, and job location desires. Once we have this information our team gets working to find you a job. We send your profile over to facilities that meet your job criteria. This is when the magic happens!
If you land a phone interview with a hospital, your recruiter will give you interviewing tips. We're here to root you on! When you lock in a position we'll send you a "letter of acceptance" form. This form indicates that you are ready to move forward with the contract. Your recruiter will call to walk you through the next steps. You can rest assured that you'll never feel left in the dark during the process. Communication between you and your recruiter is key. Before you know it, you'll be walking into your first day as a travel nurse!

How to Become a Travel Nurse?
The process of becoming a travel nurse is quite seamless. But, there are a few requirements before you can set sail on your new adventure.
Earn an Associate of Science in Nursing (ADN) or Bachelor of Science in Nursing (BSN) Degree
To pursue your dream of travel nursing, you must first receive your ADN or BSN degree in nursing. Both programs will get you to an RN status. But, the Associate Degree is a two-year program and Bachelor Degree is a four-year program. One of the greatest benefits of a BSN degree is future job advancements.
Pass the NCLEX-RN Exam
Once you graduate from a nursing program you will apply for a nursing license. You will do so through the Nursing Regulatory Body and register for the NCLEX exam with Pearson Vue. Once you complete those steps you will receive an Authorization to Test (ATT). After this, you will need to schedule your NCLEX exam. The exam tests your knowledge of various nursing topics. Passing this exam indicates that you are ready to begin practicing as a registered nurse.
Start Your Career as a Registered Nurse
You've completed your degree and passed the NCLEX exam! Time to celebrate and start applying for your first nursing job! It's time to get some experience under your belt before you can dive into travel nursing. Travel nurses must have 1 year of experience in the last 2 years in their desired specialty. Once you have that experience, you can set sail on your new adventure!
Apply with a Healthcare Staffing Agency
Healthcare staffing agencies are the middleman between you and the facility. Agencies have a relationship with a variety of facilities and hospitals. This can make the hiring process much easier for you. As a travel nurse, you are in full control of accepting or denying certain positions brought to you. This is one of the perks when working with an agency- you are in the driver's seat.
Pros and Cons of Travel Nursing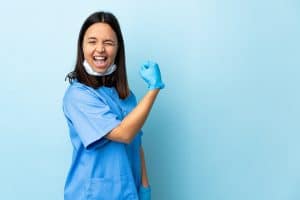 Pros of Travel Nursing
Travel the Country
If you get bored with the same old routine then travel nursing is the perfect fit for you. When you are a travel nurse you can explore all areas of the country. Assuming you have a compact license or a license to work in your desired location. Let's say you live in Wisconsin and you despise the winter months. You have the ability to escape the cold and head to a warmer climate for a 13-week contract. You could also create a "destination bucket list" and try to go to as many new places as possible. How many people can explore new destinations and get paid to do it?!
Earn More Money
Travel nurses can expect to earn more money than they would at a permanent position. On average, our nurses at PRN Healthcare tend to earn 20% more than permanent employees. Your pay Your recruiter can help customize your specific pay package for you.
Work with an Agency
Travel nursing should be a fun and exciting experience. Working with an agency can ensure a positive experience for you. At PRN Healthcare, we are "Nurse First", which means that we strive to do right by you. We want nurses to feel supported, valued, fulfilled, and empowered to succeed. One of our top priorities is to get to know you. It is our priority that you have the best travel nursing experience possible.
Bye-Bye Hospital Politics
As a travel nurse, you don't have to get caught up in the drama of hospital politics. You can tell yourself that you have 13 weeks on your contract and can move on to the next – an easy way to move past any drama. But, if you do have an issue during your contact be sure to reach out to your agency to assist with the situation. You are never "alone" during your contract – your agency will always be there for you.
Cons of Travel Nursing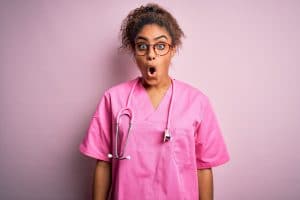 Adapting to a New Facility
At each facility, you will find similarities and differences from your past experiences. It can be difficult to adjust to new ways of doing things. Don't be afraid to find a nurse mentor on your floor, it'll make for an easier transition.
Homesickness
After the excitement of your new adventure wears off you might be feeling lonely. Try to combating homesickness by skyping/facetiming family and friends. Get involved in your new city. Join a gym, volunteer, explore a farmer's market, or check out a local band. Isolating yourself will only bring on more loneliness, so try your best to put yourself out there!
Floating
The reality of staying on your floor for your full 13-week contract is not realistic. You are more than likely to float. It is good to wrap your mind around this before you decide to become a travel nurse. The good news is that you'll be confident and capable to take on any nursing demands!
Unpredictability
As a travel nurse, you don't have the luxury of job stability. You're hopping from one contract to the next. So, you will feel some stress as you begin your career as a travel nurse. You will learn that there will always be travel nursing contracts available. Your recruiter will look for your next position before your current contract ends. You never have to worry about being without a job.
Conclusion
Travel nursing is one of the greatest adventures you can go on. There are so many perks to travel nursing. You get to experience new cities, new facilities and gain great new friends. Whether travel nursing is your lifelong career or not, you'll be happy it was an adventure you took.

Resources