8 Reasons to Make Dallas Your Next Travel Nursing Destination
What to Do in Dallas as a Travel Nurse
A great benefit of travel nursing is the ability to explore new places and making endless amounts of memories. So, if you're looking for a new travel nurse contract in the south that provides a fun and unique experience, here are the top eight reasons to make Dallas, Texas your next travel nursing destination!
You know what they say, everything is bigger in Texas, especially in Dallas if you consider all it has to offer. Wondering what to do in Dallas as a travel nurse? The city Dallas has something for everyone; Dallas is known for being the assassination site of President John F. Kennedy which is why it has many museums. It's also culturally recognized for the AT&T Stadium, which is home to the famous Dallas Cowboys football team. This city also has a variety of famous landmarks such as the Reunion Tower and Pioneer Plaza. Dallas features its signature Tex-Mex food at many local restaurants, as well as frozen margaritas. Yum!
We want you to have the best experience while on assignment with us, so here is a list of the top 7 reasons to make Dallas Texas your next travel nursing destination!
The Sixth Floor Museum at Dealey Plaza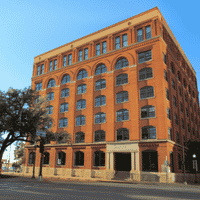 As mentioned before, Dallas is known as being the assassination site for President John F. Kennedy. The Sixth Floor Museum at Dealey Plaza features the life of JFK from a cultural, social, and historical perspective. This museum has over 60,000 artifacts, and is one of the top tourist destinations to visit in Dallas. While walking through the museum you are able to learn more about the assassination and undercover intimate facts about JFK. Also, you're able to stand in the exact spot where Oswald made the shot that killed the president. Following that, Tourist are also able to stroll through the Grassy Knoll where you can see the "X" spot where JFK was fatally shot. For history buffs, this is a great place to visit.
Reunion Tower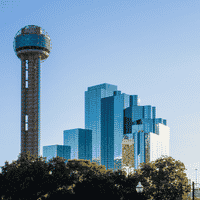 Each city has their big landmark, and Dallas' is the Reunion Tower. This iconic skyline is 560 feet, 171 meters, and was built in 1978. It is also known as "The Ball", there are 259 LED light fixtures that surround the geodesic dome. The Reunion Tower has three elevators that can take you on a 68-second ride to the GeO-Deck. The GeO-Deck allows you to get a 360-degree view of the city and has high-definition zoom cameras, interactive touch screens. This is a great selfie spot! There are also two rotating eateries on the top of the Reunion Tower. The first restaurant is Cloud Nine Café, which features casual food and drinks with an amazing revolving view of the city. The other restaurant is Wolfgang Puck's Posh Five Sixty, that features an Asian-infused menu and a fine dinning experience.
The AT&T Stadium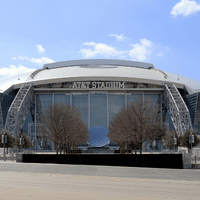 If you're a sports fan in Dallas, it's time to go check out the AT&T Stadium. The stadium is home to the Dallas Cowboys football team. This stadium features a massive retractable roof to allow for both indoor and outdoor games. It also has four enormous scoreboard screens that face both end zones and the sidelines. The AT&T stadium can hold up to 100,000 seats and is used for other events. Some of the other events that are held at the stadium include concerts, soccer, professional wrestling, rodeos, races, and more!
Dallas Arboretum and Botanical Garden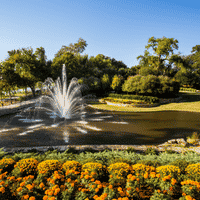 Are you looking for some beautiful floral displays all year long? Well you're in luck! The Dallas Arboretum and Botanical Gardens is a 66-acre garden that features breathtaking floral displays. The Dallas Arboretum was named "One of the Most Breathtaking Gardens in the World," by Architectural Digest. The Gardens host an annual Dallas Blooms festival from February to mid April. This festival has more than 100 different types of spring blooming bulbs and include 500,000 individual tulips. Also, during different seasons the gardens host special events, such as the summer time outdoor concert series on Thursday evenings. In the Autumn time, the Arboretum features a Pumpkin Village with over 90,000 pumpkins and is named one of America's Best Pumpkin festivals.
Dallas Museum of Art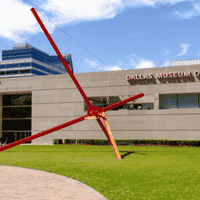 If you are an art lover then you should go check out the Dallas Museum of Art. This museum was named one of the top art museums in the country and it is also among the 10 largest art museums in the world. The museum was founded in 1903 and is known for the innovative exhibitions. These exhibitions include educational programs and a variety of art collections from around the world. While walking through the museum of art you can take part in the international journey of 5,000 years of history. Also, the museum contains over 24,000 pieces of artwork. As an art enthusiast, you can leap across many different time periods and civilizations such as European, Contemporary, Asian, American, and African.
Perot Museum of Nature and Science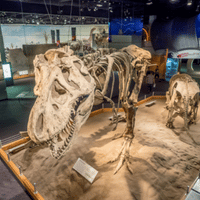 If your looking for more educational activities, then you should check out The Perot Museum of Nature and Science. The Perot Museum is an award-winning museum with 11 outstanding exhibit halls. The museum has five floors to walk through and they are filled with prehistoric creatures, wonders of space, extraordinary experiences, wild weather, robots, sports, and more! Many of these exhibits feature interactive activities such as racing with a virtual T. Rex, construct model skyscrapers, experience the power of earthquakes and understand what it means to be human. Get in touch with your inner child and experience the wonder.
Klyde Warren Park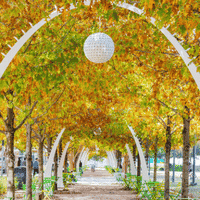 The outdoor enthusiasts should stop by Klyde Warren Park. This public park is located in downtown Dallas and is 5.2-acres. The park opened in 2012, and is named after the son of the billionaire Kelcy Warren, who donated $10 million for the development. Warren park is a public gathering space for Dallas visitors, and has a tree-lined walk way for pedestrians to walk through. It also has a restaurant, children's park, botanical garden, reading room, dog park, game areas, and more! On certain days there will 10+ food trucks lined up at the park where you can come and grab a bite to eat with a friend!
Pioneer Plaza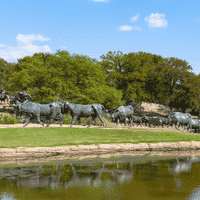 MOOOve on over, there's a heard of cattle stampeding through downtown Dallas! This great attraction is known as Pioneer Plaza and is one of the most famous sights to visit in Dallas. Pioneer Plaza is named after the pioneers that founded Dallas in 1841 and features 49 bull sculptures. Each sculpture is unique and has its own individual look when it comes to their facial expressions and the hooves. Also, Pioneer Plaza is conveniently located in downtown Dallas and so if you have an event or conference, it is a great place to get out and walk around and see the downtown before your break is over! Also, have you been to Dallas if you didn't get a picture with one of the bulls?!
---
As you can see, you won't have to sit around asking yourself "what to do in Dallas as a travel nurse" Dallas has many must see attractions for travel nurses who wants to get the full southern experience! Whether it is the historical sites, museums, sports, famous landmarks, or food, Dallas has something fun for everyone!
What are you waiting for? Now is the time to take a travel contract with PRN Healthcare and make Dallas your next travel nursing destination! Check out our available contracts here.