Visit These Five Warm Winter Travel Nursing Destinations
Now is the time of year where travel nurses start to look for their next travel assignment in warmer weather. They're hoping to get contracts through the fall and winter months, when the weather can be cold and unpredictable. The real question is are you wanting to become a snowbird too? The term "snowbird" is used to describe a person who moves from the North to the South. These snowbirds are in search of warmer and sunnier weather in the winter months. If your answer is "yes," that you are looking to find your next travel nurse assignment in a warmer place during winter, then here are the five best winter travel nurse assignment locations.
Florida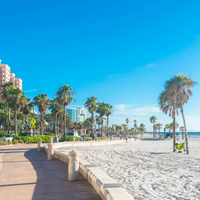 When you imagine a trip to Florida, you think of warm weather and a lot of sunshine. Florida is a great place for a travel nurse because it has one of the highest demands for travel nurses in the nation. This typically means there are tons of assignments with outstanding pay waiting to be filled. Another great benefit about traveling to Florida in the winter is that it's summertime year-round. There are also many fun amusement parks to check out in Florida, which is why it is ranked the top tourism state. A favorite amusement park and tourist attraction to visit in Florida is Walt Disney World in Orlando.
Another great city to visit is Miami, which has amazing museums and shopping centers. If you are looking for something more lowkey and historic I would recommend touring St. Augustine, the nation's oldest city. This old city features a night of lights display in December where millions of tiny white lights are scattered throughout the city. There's a lot to do in Florida and since it's warm all year long, you will never be limited by cold weather!
California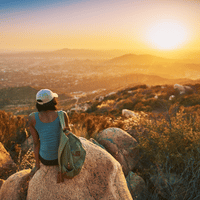 California is another a popular destination for travel nurses to go, during the winter months. The city of San Diego is especially great to visit because it is whale watching season and they offer whale watching cruises. When taking a whale watching cruise you can see the grey whales start migrating through San Diego. They typically get so close that you can see them from shore! Also, if you are a seafood lover, San Diego has some of the freshest fish year-round.
If you are looking for another picture-perfect travel nursing destination, I would recommend checking out Palm Springs and the Coachella Valley. There are a lot of fun things to do such as visiting trendy downtown restaurants, going to a spa, or playing a round of golf at a country club. California is also known for as wine country. A few popular California counties you can visit for wine include Napa, Sonoma, and other California counties during the wintertime. Other popular tourist attractions worth visiting are The Golden Gate Bridge, Yosemite National Park, and Universal Studios. California truly has something for everyone to make their trip enjoyable.
Texas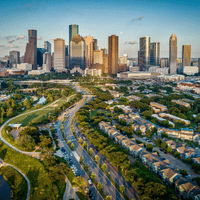 Texas is another great option for winter travel nurse opportunities. If your perfect winter getaway is sitting on the beach, then I would recommend road tripping to South Padre Island. There are many activities to do at South Padre Island such as going horseback riding on the beach and fishing. Also, South Padre Island is the perfect place to go on a dolphin-watching cruise or relax in the sand.
If you aren't in a beach relaxing mood, then check out the amusement park Six Flags Over Texas, in Arlington. This amusement park is 212 acres and has 13 rollercoasters. It also has 3 water rides and an area with rides specifically for kids. Texas is also famous for their breweries and there are more than 50+ breweries to get you started. Another beautiful attraction to visit in Texas is the Dallas Arboretum and Botanical Gardens. Many people love to tour the Dallas Arboretum and see the gorgeous displays of flowers and special holiday events. As you can see, Texas is full of fun opportunities for travel nurses to check out while they are out on their assignment!
Arizona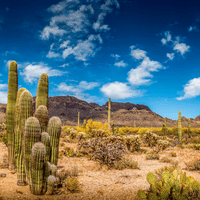 Arizona offers something different than most states we have listed so far, since it isn't known for being a beachy state. This state is known more for its desert environment such as the Great Basin, the Chihuahuan, the Mojave and the Sonoran deserts that touch each part of the state to give it a diverse landscape. A great town to check out is Phoenix, which has a variety of fun things to do year-round. Phoenix can get very hot during the summertime, but in the winter you don't have to worry about the heat. The Phoenix Metro Area is very popular and known for golfing, hiking, and great happy-hour food and drinks. The metro area is also known for its casinos, gorgeous resorts and spas, and hosts Spring Training for baseball.
Phoenix also has a beautiful Desert Botanical Garden, that showcases all the beauty a desert has to offer. On the first Friday of the month, the town of Phoenix gets transformed into a city-wide galley. There are live music performances and food trucks featured at the gallery event. This is the perfect opportunity to bring family and friends along to the gallery event. If you are looking for indoor activities to do while on assignment, try checking out the Musical Instrument Museum or the Phoenix Art Museum. The Musical Instrument Museum features world-class instruments from all over the world that you may never have seen before. The Phoenix Art Museum offers a wide variety of art pieces and different exhibits throughout the year. Now is the time to pack your bags and take your next travel nursing assignment to Arizona!
Hawaii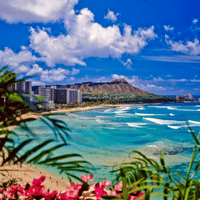 When most people think of Hawaii, they instantly think of the beautiful beaches, great weather, and a tropical paradise. Hawaii is the perfect option for your winter travel nurse assignment since there are endless amounts of things to do. The weather in Hawaii stays just the right warm temperature to allow for an enjoyable and relaxing time. Also, the waves typically get bigger in the wintertime, which means the month of December is a great time for you to surf. If you are not a surfer fan, then you can try some other water activities like snorkeling or scuba diving.
Hawaii is also known for its whale watching season during the winter months where you can see all the migrating humpback whales in the water. If history interests you, then I would recommend that you go visit Pearl Harbor, located on the island Oahu. Otherwise, if you are more interested in hiking and sightseeing aspects then you should go checkout some of the volcanoes and other trails on the islands. If you go see some of these volcanos and hiking trails you have the option to walk or you can rent bikes/scooters to go up them too.
What are you waiting for? Join the snowbirds and start to look for your next warm winter travel nursing assignment with PRN Healthcare. Whether your next assignment will be one of the ones listed above, or a different warm place, I hope you have a great trip!