3 Sustainable Scrubs for Medical Professionals
The fashion industry is taking a large toll on Mama Earth. After the oil industry, the fashion industry is the second-largest polluter in the world. It is also the second-largest consumer of water. It takes roughly 700 gallons of water to make a cotton shirt and over 2,000 gallons to make a pair of jeans. Our landfills are full of textile waste. As consumers, we keep fueling this dangerous cycle of fast fashion. How can you get out of this cycle? Do your research and purchase from sustainable brands.
As a healthcare professional, there are some great sustainable scrubs on the market! Sustainability has become more sought after in recent years. Consequently, new ethical brands have emerged and current scrub brands have launched sustainable collections. Save the planet while also saving lives with these scrubs!
LAGO ($30-$75)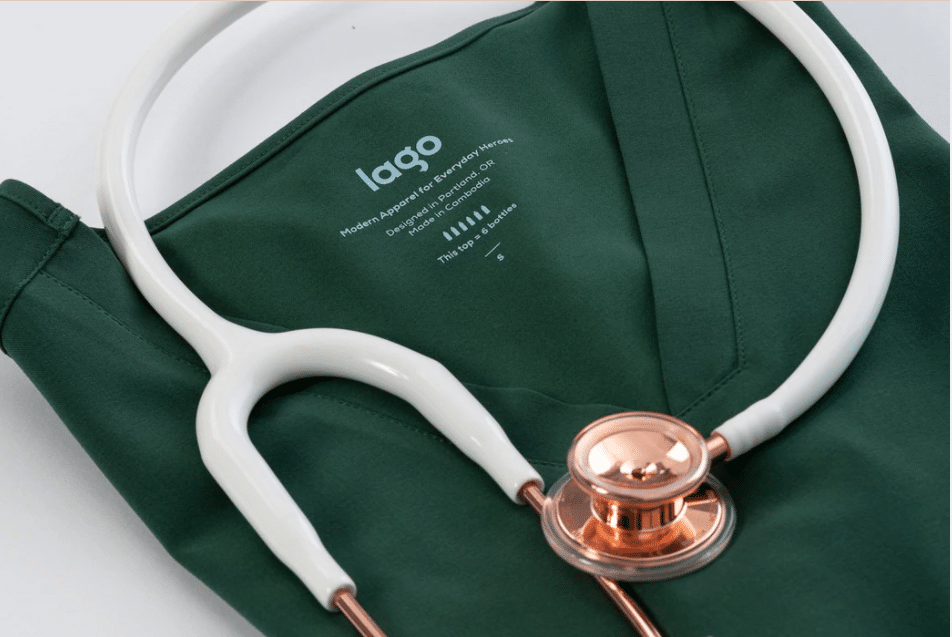 If you are going to purchase new, ensure you are purchasing from sustainable brands. The scrub brand, LAGO, offers both male and female styles! These functional, stylish, and comfy scrubs are easy on the planet. Each scrub set is made from 14 plastic water bottles. Instead of filling landfills, these plastic water bottles are given a second life through buttery-soft scrubs! Better yet, these sustainable scrubs are made in factories with safe and fair working conditions. Get your scrubs in 100% recycled packaging right to your front door!
Sketchers by Barco One ($22-$50)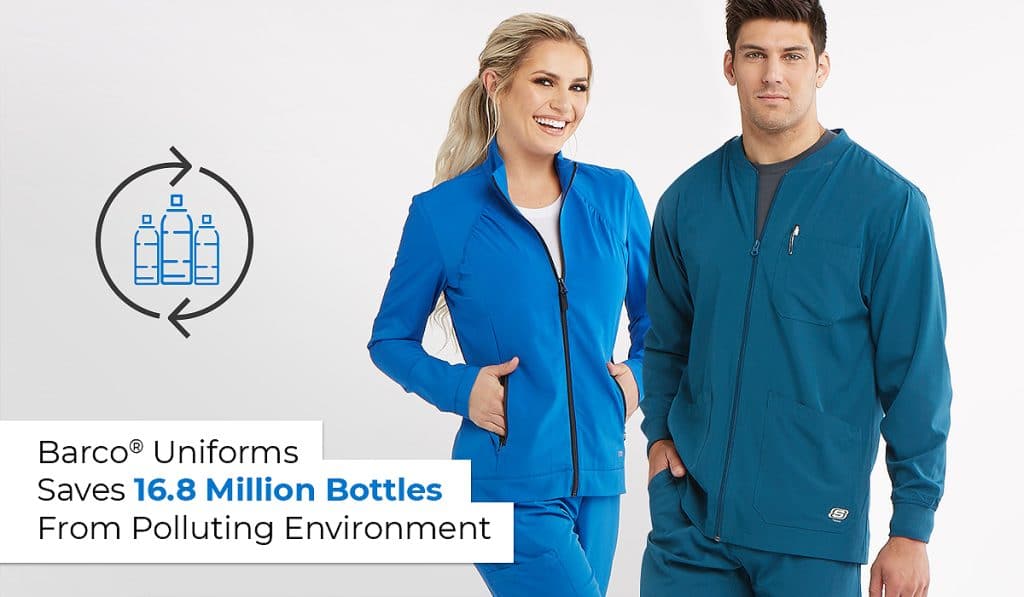 For all the Greys Anatomy fans, you are probably familiar with the Barco One brand already. Barco One is a leader in the healthcare apparel industry. Along with their Greys Anatomy collection, Barco One partnered with Sketchers to create a collection of sustainable scrubs.
Each Barco One Sketchers garment is made with seven plastic water bottles. In order to create the scrub fabric, plastic bottles are cleaned and turned into plastic pellets. From there, the pellets are crushed and melted. The melted plastic is turned into a thread that is woven with polyester. The Sketchers by Barco One collection features a moisture-wicking fabric with soil-releasing technology. These scrubs are beloved by eco-conscious healthcare professionals for their comfort, fit, and the wide range of sustainable scrub options offered. The most popular women's scrub pants include their Vitality Logo Elastic Waistband Scrub Pant and their Women's Theory Jogger Scrub Pant. Male medical professionals love the comfort and endurance of the Structure Elastic Waistband Zip Fly Scrub Pant and the Men's Vitality Jogger Scrub Pant.
Mediclo ($39-$89)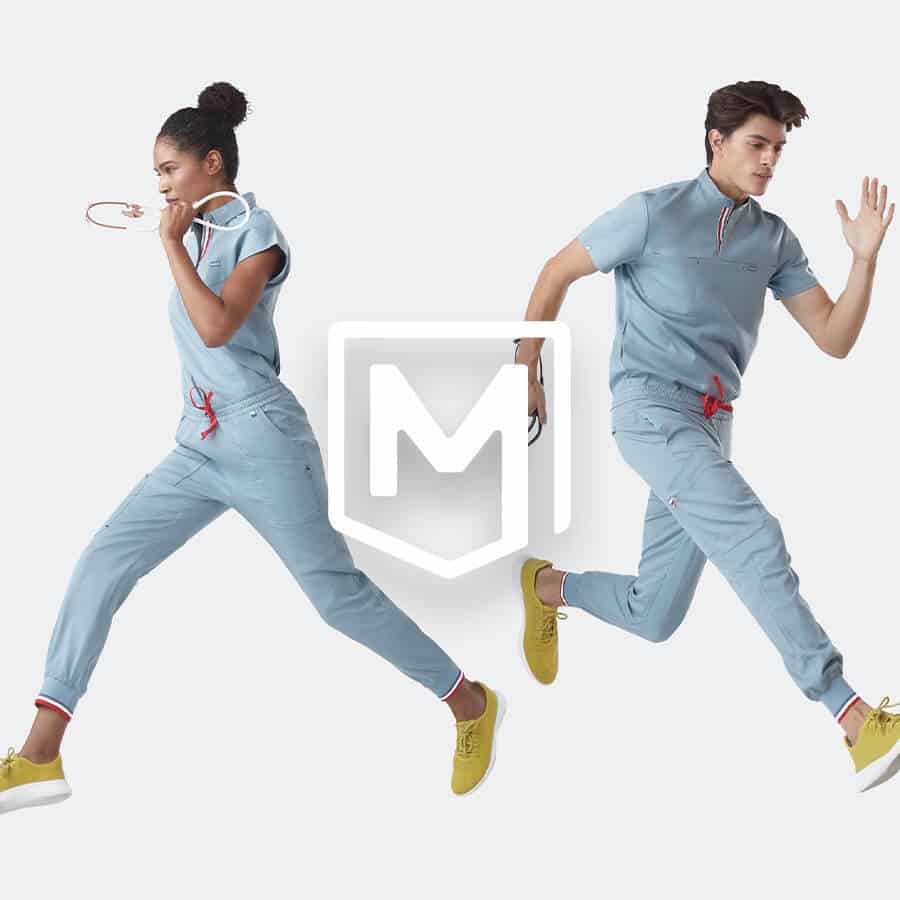 Mediclo is a start-up healthcare apparel company that was founded in 2017 with the intention of making sustainable scrubs with a comfortable fit. Two popular collections for women and men at Mediclo are The Tree Edition and The Bottle Edition.
The Tree Collection is made of Tencel, an eco-friendly fiber that is made from Eucalyptus trees. The organic fibers are breathable and lightweight. All the Eucalyptus trees are responsibly sourced and harvested. With every purchase of Mediclo scrubs in the Tree Collection, your order plants one tree. Feel good about wearing these!
The scrubs in the Bottle Edition from Mediclo are created with 75% recycled polyester. Polyester is a synthetic fiber that is made from petroleum and is a form of plastic. Recycling gets polyester out of landfills and adds life to the fabric! Mediclo's incredibly soft and durable recycled polyester fabric is easy on the planet and has water-resistant properties that will keep you dry throughout your shift. The scrub tops and bottoms are guaranteed to be wrinkle-resistant and have a comfortable 4-way stretch. With every purchase in the Bottle Edition, your order will plant one tree. These are great scrubs for you and Mother Earth!
---
Every dollar we spend is a vote. By purchasing sustainable scrubs, you are voting for less waste in landfills, sustainable sourcing of fabrics, and safe and fair working conditions for factory workers. With advancements in eco-consciousness, you can now have comfortable and fashionable scrubs that are also easy on the planet!