Essential Travel Nurse Resume Secrets
Wondering how to get a nursing job or land your dream travel nursing contract? To start, you'll need a resume that stands out! Writing your travel nurse resume can feel daunting, we get it! To help you combat these fears we've created a comprehensive guide to perfecting your travel nurse resume! We've highlighted the most important parts to include in your resume and we'll walk you through what agencies are looking for in an ideal travel nurse resume.
Less Is More
It's important to remember that the hiring process of agency nursing is much different than staff nursing, even down to the format of your travel nurse resume. While hospitals want a play-by-play of the different procedures, cases and skills performed, that isn't necessary for an agency nursing resume.
Your agency nursing resume ultimately is the foundation for creating the rest of your travelnurse profile, so only the basics are necessary. You know the old saying, "less is more"—I think those people were agency recruiters. ? The information needed from your resume is going to be pretty standard from agency to agency, keep this updated to make future application processes easier.
The most important information to include in your travel nurse resume is:
Education

Dates attended
Degree earned

Current licenses that you hold
Current certifications
Work history

Name of facility
Position held
Dates of employment
Travel Nurse Profile
Asan agency we don't require all the "fluff" that you may see in other resumes.We require different documents and details to complete your travel nurse profile. This profile is used to submit over to facilities that you are interested in working at.
In order to complete your profile, we will need the following information:
Skills checklist

Goes through the specific skills you've performed in your specialty
Summary of how confident you feel with those skills as well as how frequently you're currently doing them
Two references to validate your skill set and clinical competencies
Your recruiter will add the rest of the information that isn't on the initial application including…

Bed sizes of facilities
Trauma or teaching facility
Any additional awards you've received
Travel Nurse Resume Example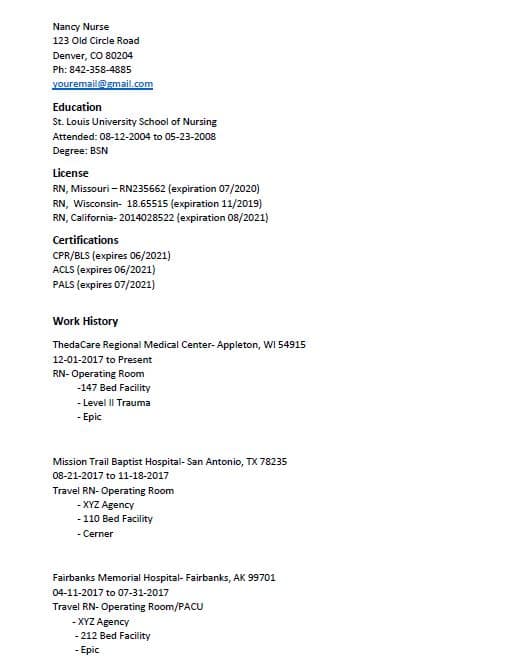 Be Proactive As A Nurse
New travel nursing contracts open and close daily, so it is important to be ahead of the game and have your resume and profile completed. This allows your recruiter to easily submit you to your dream contract quickly! It's a win-win for you and your recruiter. Don't wait for the "perfect position" to start this process or you could miss out bigtime.
Want more reasons as to why it pays to be proactive? Skip over to "Travel Nurse Contracts: Apply Early!"
Ease Into Your Next Assignment
All in all, when crafting your agency nursing resume, keep it simple and stick to the basics. By doing so, you'll be able to whiz through any agency application process with ease. Spend less time trying to think of your work history and more time exploring your new travel assignment options!
---
"Oh the places you'll go!" – Dr. Seuss