Nurses Week 2023: Discounts, Freebies, and More!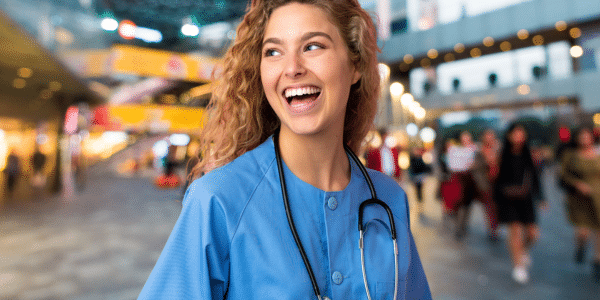 National Nurses Week is coming up quickly, May 6th-12th. This is the time to recognize and celebrate the nurses for their hard work and dedication on the job. This year, Nurses Week 2023 has outstanding discounts, freebies, and more for nurses. We've put together a list of some of the best nurse deals that 2023 has to offer.
Nurses Week Food and Beverage Deals:
Now is the time to treat yourself with some of these amazing food and beverage discounts and freebies. for Nurses Week 2023. Whether you need the energy to help make it through a long shift or to enjoy a nice meal to yourself, we've got you covered!
Nurses Week Retail Deals:
As nurses, you work hard each and every day to care for patients. It's important that you don't forget to treat yourself every once in a while with some retail therapy. This includes getting yourself some new shoes or clothing item!
Nurses Week Entertainment and Travel Deals:
Sometimes you just need to get away and plan a vacation for yourself. Whether you're traveling for work or planning a spontaneous getaway, these great entertainment and travel deals will help save you some money on your next adventure!
Nurses Week Outdoor and Fitness Deals:
Other Potential Deals for Nurses Week:
These deals have not been officially announced by some of the businesses yet. They are something to keep an eye out for as Nurses week is approaching. The businesses listed below had deals in 2022, for Nurses Week, and we are hoping they continue with their deals for 2023.
Jimmy John's: Nurses receive $5 off online and app orders with a purchase of $20 or more with a specific promo code in 2022.
Potbelly Sandwich Shop: The restaurant has been known to give away a free cookie or a free regular fountain drink with an order of any entrée' for Nurses Week.
Scrubs & Beyond: In 2022, Nurses received 20% off in-store and online purchases from Scrubs & Beyond.
Auntie Anne's: Auntie Anne's Pretzels gave their Perks members BOGO pretzels through their website or app from May 6 – 8, in 2022.
MOD Pizza: In 2022 you could Buy One, Get One Free MOD-size pizza or salad when you signed up by May 4th, 2022. The coupon was sent via email and you could use it online or in the restaurant through May 8th.
As a side note, these are just a few of the Nurses Week 2023 discounts, freebies and more! There are plenty more deals out there for Nurses Week, so definitely keep a lookout for more to come!
We hope you have enjoy some of these fantastic discounts and freebies! Happy Nurses Week 2023 from your friends at PRN Healthcare!