Top 5 Best Shoes for Nurses 2021
It doesn't take a rocket scientist to figure out that nurses are on their feet a lot! Nurses put on many miles in one day, so finding the perfect shoe to accommodate these marathon shifts is key.
According to Dr. Howard Freidman, a New York-based Podiatrists. "to help keep pain at bay, pick up at least two pairs of supportive sneakers or clogs. (Or one of each!) A shoe cushioning becomes completely compressed after six hours or so, Dr.Friedman cautions. So having two great pairs allows you to change halfway through your shift." Jen McCaffery and Sanah Faroke, Prevention. With that that said, you might have a few questions on how to find the perfect nursing shoe for your next shift. Let's break it down for you before you head to the store or go online to purchase some new kicks.
Nursing Shoe FAQs
How to choose the right shoes?
There are a few key elements you need to look for when choosing the right nursing shoe. The first is arch support and appropriate cushioning. If you neglect this aspect of a shoe your body will tell you. The arch support and cushioning will keep your feet comfortable and help posture. Second, you should be on the lookout for a wide-toe box. As you spend time on your feet throughout the day, your toes naturally want to spread. If you tend to gravitate towards narrower shoes, you may want to rethink that. Third, finding the right shoe material. For easy cleanup, go for the leather. Any nurse will tell you that spills and accidents are bound to happen. Lastly, non-slip shoes are a must. Hospital floors can be slick and messy – you need as much grip on your shoes as possible!
Why do high-quality shoes matter for nurses?
Nurses are on their feet for 12+ hours a day, so finding a high-quality shoe that you can rely on is essential. Finding the best shoe for you will prevent knee, back, and foot issues. Take your time finding the best shoe. Even more important is trying a variety of brands and styles to find the keeper!
The most popular nurse shoe brands 
Choosing the right pair of shoes can feel like an impossible feat. There are so many brands and styles to choose from. To make things a little bit easier for you we compared some of the most popular brands to help you decide.
Dansko
This is a great brand for foot and arch support. Danskos have a protective heel, which gives your foot the necessary movement it needs. These shoes also do a fantastic job of preventing blisters. 
Nike
Nike is a brand that has been around for quite a while. Known for their quality and durability, this is a brand you can trust. Nike is known for making running shoes and keeping comfort at the forefront of design. There are a variety of Nike options and every foot type is different. It's important for you to try on a variety of styles. Find the one that will be best for your marathon shifts.
Skechers
Skechers shoes provide comfort with their signature memory foam soles. You'll feel like you're walking on clouds. These shoes are also breathable and flexible. These shoes are quite adaptable to your foot. But, it's important for you to try on a variety of styles before you make your decision.
 Nurse Mates
These are the perfect shoes for comfort. They are also designed to be slip-resistant. These shoes are durable and very easy to clean. The beauty of these shoes is that they were designed for nurses like you.
Brooks
These shoes are unique. The company uses BioMoGo DNA technology to provide customized cushioning and support. No matter how many hours you are on your feet, you can count on these shoes to make your shift easier.
Merrell
Merrell shoes are known to withstand the toughest hikes and outdoor adventures. If they can handle tough terrains, you know these shoes can handle the hospital. You will find comfort, durability, and long-lasting footwear with this brand.
Reebok
Reebok is a classic shoe that you can't go wrong with buying. Not only can you find great running shoes, but the perfect casual pair as well.  Whatever suits your style, you'll find it in a Reebok shoe. Classic designs with high-quality material.
Adidas 
When it comes to athletic shoes, Adidas is another brand that needs no introduction. Like Nike, an Adidas shoe can be spotted a mile away. The iconic symbol screams longevity and trust. This brand offers great quality shoes that have withstood the test of time. Adidas is also devoted to providing sustainable products.
If you still feel a bit lost, we've got you covered! Here are the top 5 female and male nursing shoes. Try a few different brands to ensure you have found the best fit possible. 
Top 5 Shoes for Female Nurses in 2021
1. Dansko Professional Clog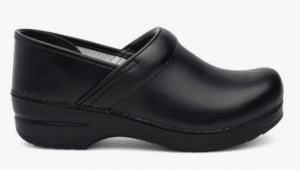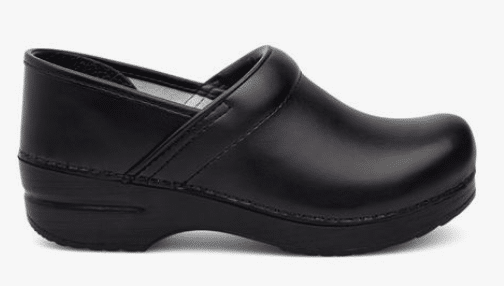 The Dansko Professional Clog is sure to make your feet happy. Dansko has a wide variety of colors, sizes, and widths to choose from. All these options will ensure that you find the best fit and style.
Review from a recent Dansko purchaser…
"Best shoes for nurses ever – I would very much the Dansko Professional shoes-they are the MOST comfortable shoes I have ever worn- I work in a hospital andpeople told me over and over again to buy some Danskos but I was unwilling tospend the $$…after 2 years of crappy shoes at a lower cost, I broke down andit's the best decision I ever made. I would definitely buy them again. I would also highly recommend Zappos.com- I ordered my shoes online and received themwithin a 24 hour period. It was very fast. Great purchase."



2. Nike Tanjun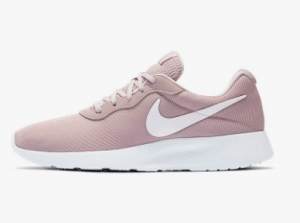 Some nurses prefer to sport more of an athletic shoe and if that's you then the Nike Tanjun's are for you! This shoe line is in a variety of colors and sizes. You'll find these kicks provide great support and breathability with the mesh top. Easy transition from work to play!
A happy Nike Tanjun owner writes…
"So I am a medical assistant and I am constantly on my feet, running back and forth, up and down and whatnot. I am also a bit heavier than other people. (5'5 & 265). These are the most comfortable shoes I have ever worn. I wear a size 10 or 10.5. I went with the 10 and they are a comfortable fit. However, if you plan to put insoles in them (even though you don't need them) go .5 to a whole size up so you have room. The color is beautiful and it has a cushion on the back of the heel that holds you Achilles perfect. Plus that two-day shipping is awesome."
3. Skechers Work Sure Track – Trickel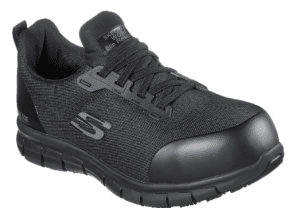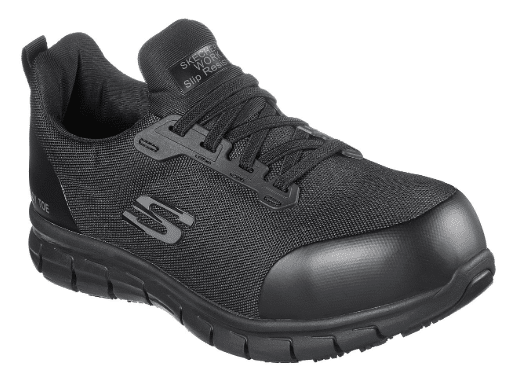 Comfort and traction all in one! These shoes have a removable memory foam pad, slip-resistant outsole, and pull tab for easy on and off. This sure sounds like the perfect shoe for comfort and stability. Let's be honest, we all know you run into some messy situations – keep your footing with these Skechers!
Skechers owner writes…
"This shoe has so many positive things to say about, I hardly know where to start. First, let me say it is the most fantastic shoe I have ever worn."
4. Nurse Mates Women's Dove Oxford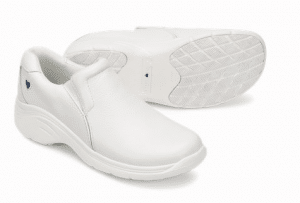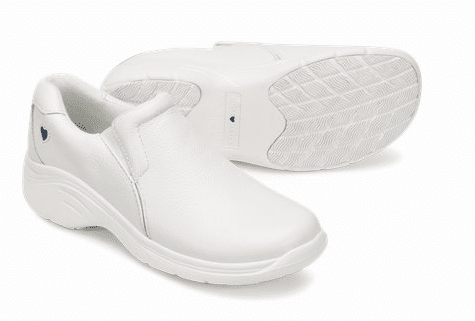 Light-weight, stain resistance, and comfortable. Sounds like a match made in heaven for every nurse! The icing on the cake with the Dove Oxford shoe is that they are also easy on and easy off. There is a wide variety of sizes and widths to ensure your feet stay comfortable. Snag a pair to test on your next shift!
Nurse Mates owner writes…
"Absolutely comfortable. I use these as a Surgical Tech. Helpsthrough 12hr standing through surgeries and are merciful on the back and feet! If bodily fluids fall, like blood, they wipe off easy. The leather prevents a possible falling tool to slice through the shoe, so they protect your feet in more ways than one!"
5. Nike Revolution 5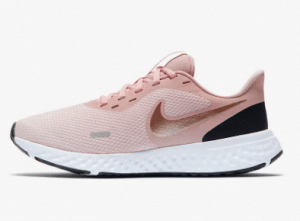 This is an awesome shoe with great flexibility and comfort. This shoe has a natural stretch to adapt to your every move. It also features a molded heel counter. This provides a natural fit and excellent movement of your Achilles. Not only does this shoe offer comfort, but solid traction for all floor types.
Let's hear from a Nike Revolution 5 purchaser…
"Right out of the box these were very comfortable. They sit a little higher on my ankle than my last pair of sneakers from another brand so that has taken some getting used to, but it's personal preference more than anything. I wear them at work for 9 hours a day and they are still comfy at the end of the day."
Top 5 Shoes for Male Nurses in 2021
1. Brooks Men's Adrenaline GTS 19 Running Shoe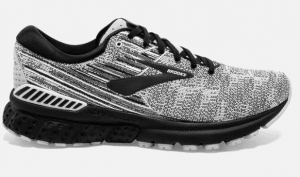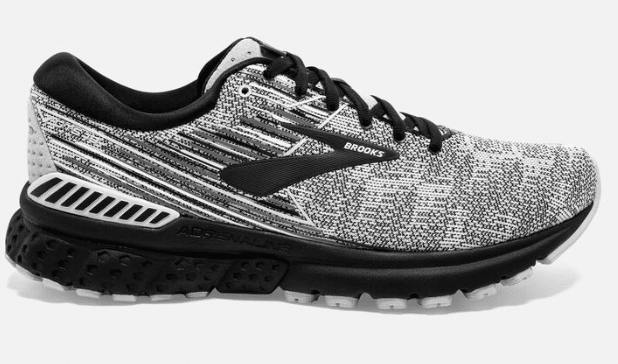 These Brooks are light, airy, supportive and so comfortable! You will be flying down the hospital hallways with ease. These shoes not only support your feet but your knees as well. The new Guiderail Support System focuses on letting you move with ease. But, also keeps excessive movements in check. The perfect way to keep your knees supported during those marathon shifts.
Review from recent Brooks purchaser…
"This has been my 'go to' running shoe for over 10 years. I've been unfaithful a couple of times, but always gone back to them and have ran everything up to Marathons in them."
2. Merrell Men's Encore Gust Slip-On Shoe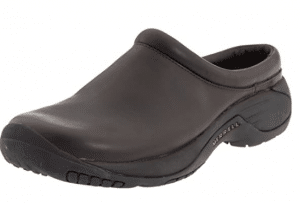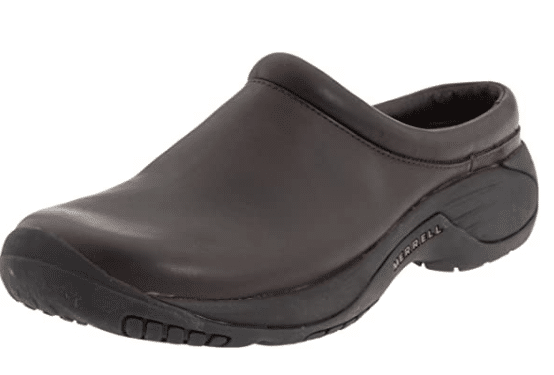 You'll find class and comfort with Merrell shoes. The Encore Gust shoes have an air cushion heel to absorb shock. Also, a mesh lining wick to keep moisture away. To top it all off they have a compression mold foot frame to keep you comfortable and stable.
Let's hear from a happy Merrell shoe owner…
"This is the 4th pair of these shoes I have owned. Needless to say I find them to be one of the most comfortable shoes I have owned and they ware like iron. Some may find the price to be somewhat high for a casual shoe but trust me, they are worth every cent. I hope Merrell never quits making them."
3. Dansko Men's Wynn Slip-On Clog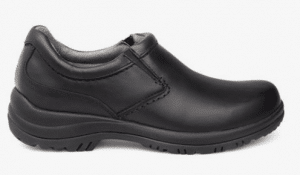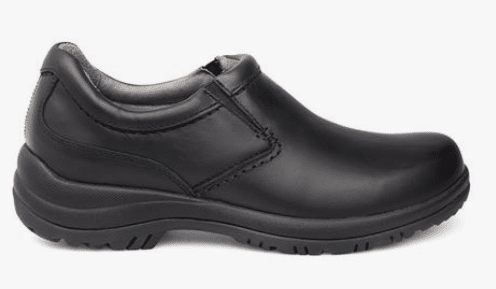 As you can see these Dansko shoes are quite like the Merrell's listed above. But, they appear to have greater support in the heel. The Dansko's have a contoured footbed and are 100% leather which keeps them looking and feeling new.
Proud Dansko owner writes…
"This is my 2nd pair of Dansko. They are tough, durable, and great for keeping my feet comfy. My first pair lasted me 5 years of constantly being in the kitchen and behind the bar before replacing them since they no longer look proper for professional use. I still use my old pair for day to day outings, and I'll most likely get another pair of Dankso in the future."
4. Reebok Classic Harman Run Sneaker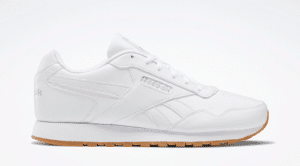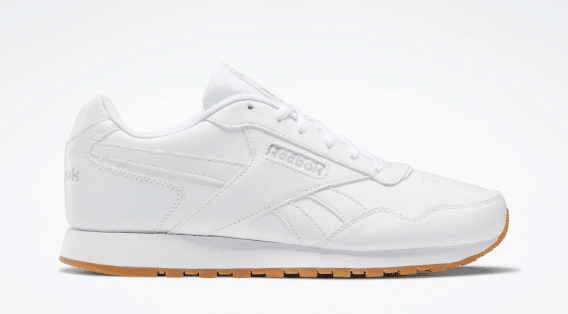 These Reebok shoes are the perfect mix of style, durability, and comfort. This shoe has removable orthotic inserts and soft leather to give extra comfort to your feet. If a solid black shoe is not your style, no worries! There are plenty of colors to choose from.
Reebok owner writes…
"Love my old school kicks. Been wearing this same style for years so I know how they fit. Comfortable and very stylish with scrubs or at least I think so. The only flaw is they loose support after six months but who cares since they aren't expensive."
5. Adidas Men's Alphabounce Beyond Running Shoe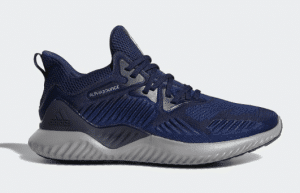 This is an awesome shoe with great flexibility and comfort. The Alphabouce Beyond has a natural stretch to adapt to your every move. It also features a molded heel counter. This provides a natural fit and excellent movement of your Achilles. Not only does this shoe offer comfort, but solid traction for all floor types.
Adidas purchaser writes…
"I've had these shoes for 8months now and they're still in as good of condition as when I bought them. I usually do not buy best shoes for nurses online because I have a wide foot and most of the time they don't fit, but these shoes fit people with wide and regular feet. They are extremely comfortable with the padding on the soul of the shoe and are great for athletic activities!"
Finding the right pair of shoes can be a trial and error process. It's important that you feel comfortable, love the style and it's easy to clean because you'll be wearing them often! If you are struggling to find the perfect pair, visit a local running shoe store. They can fit you into the best shoes for nurses for your foot type. At the end of the day, you want a shoe with great support, breathability, a rubber outsole, and a padded tongue. Of course, a great style is vital too. Don't be afraid to try a variety of styles and brands. You're on your feet way too often to settle for anything less than the best!
Resources:
https://www.prevention.com/health/a19608765/best-shoes-for-nurses/
https://nursemoneytalk.com/blog/best-shoes-for-male-nurses